Our Mission Is To Harness Our Creativity
Into Spectacular Marketing Campaigns
We at the Creative Juices Marketing and Advertising Agency use ground-breaking ideas, innovation and sheer determination to make your business stand out in whatever ways you need and/or allow us to.   We are a full service marketing, advertising, design, consulting, and public relations agency serving a local, regional, and national client base.  Creative Juices Marketing believes in the fundamentals of communication strategies and has developed a solid reputation for effective, on-target marketing.
We give each and every client's task personal and extremely focused attention.  Those who know about Creative Juices Marketing Agency and their notorious creative design knows that they believe that being an expert on their client's business is the BEST way to approach their marketing.  Come to us as a restaurant, a home builder, an auto detailer, a pest control company, a realtor, a non-profit, a dentist, an insurance agency, a garden center, a gynecologist, a trash disposal business, an IT company, a coffee shop, a technical education center, a building supply store, an occupational therapist… We will learn everything there is to know about your industry, your business practices, and the nature of your service to the community no matter WHAT you do.  Ask one of our clients. I am confident they will agree.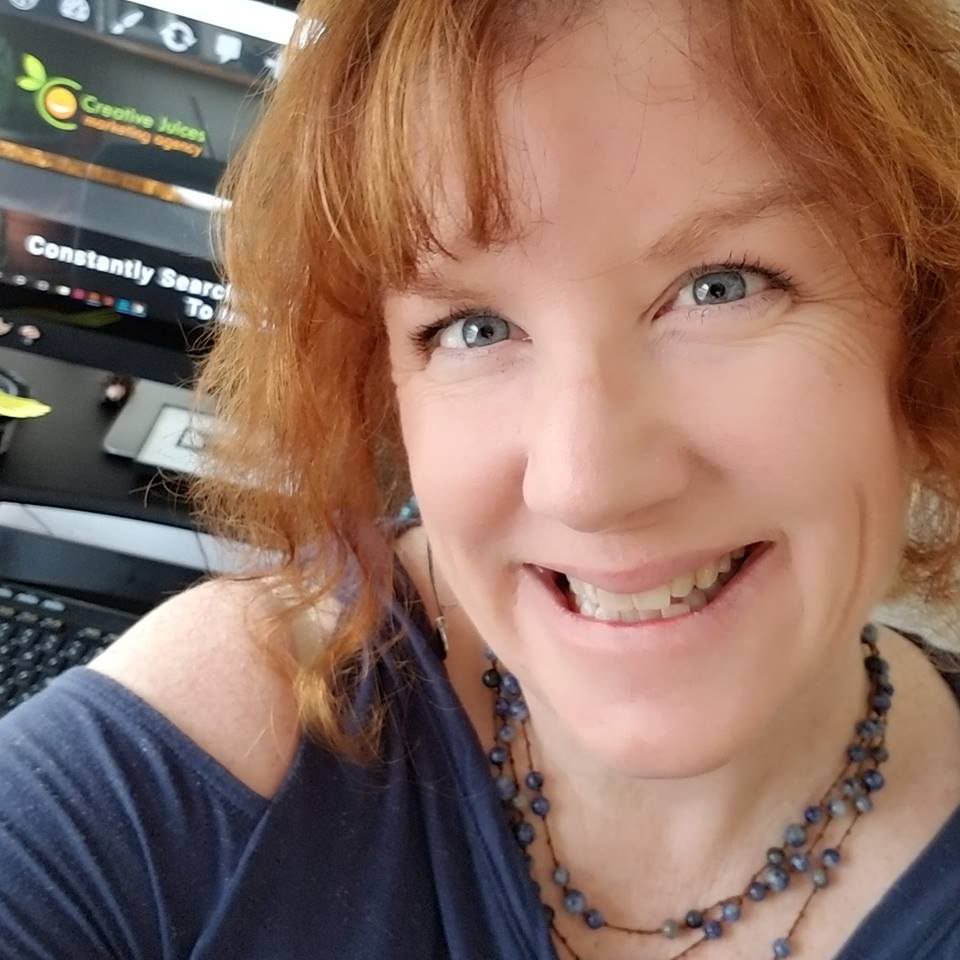 "Where others see impossibility, I see opportunity! I take risks. I am focused. I hustle. I know that nothing is unrealistic. I embrace my childlike wonder and curiosity. I take flying leaps in the unknown. I contribute to something bigger than myself. I create. I learn. I grow. I do. I believe it's never too late (or early) to dream."  denise c. hood
Denise Hood, Director/Designer/Owner
I'm a passionate and inventive creator of marketing and promotional strategies and campaigns.  A highly creative and multi-talented graphic and web designer/developer, copywriter and photographer.  Exceptionally skilled in client, media and vendor relations and negotiations.  Well developed collaborative and interpersonal skills.  Proven ability to increase sales and marketability of product or service time and time again with innovative and creative ingenuity.
This may sound trite, but I treat all of my clients as I would want to be treated.  Their needs are important and essential.  Their business is their livelihood.  I appreciate that in my own business and will work as hard for you and I would for myself.  I always think outside the box.  I don't color inside the lines.  I won't even stay in my lane.  I believe that ordinary marketing makes you an ordinary business and there are WAY too many of those to count.  Your brand, your product, your business MUST stand out to succeed.
Creative Juices can supply everything a business needs for outstanding marketing, advertising, branding, public relations, and social networking. My client list includes (in no particular order) Able United Productions, Lady Street Builders, Brackish Marinas, Holden Beach Marina, Sutton Lake Marina, Albemarle County Police Foundation, The Reserve On The Saluda, Timberlake Marina, Vital Life Psychology, Carolyn Betts Real Estate Investments, Approach Office Solutions, Holistic Pest Solutions, Ashcraft Termite and Pest, Blue Ridge Seed, Pelorus and Associates, Virginia Festival Of The Wheel, Atkins Homes, Bramante Homes, Able Insurance, Cobb Classic Detailing, Cecelia's Boutique and Gifts,  Vino Vault, 202 Eat Well Catering Resources, DJ Gerry Bradshaw, MaxMark Homes, Weatherburn Community, Afghan Kabob of Cville, Porter Sanford Performing Arts Center (Atlanta, GA), Dixon Disposal, Snows Garden Center, La Taza Restaurant, CATEC (Charlottesville Albemarle Technical Education Center), Liberty Homes, Jefferson OBGYN, Georgetown Veterinary Hospital, Pampered Pets, Charlottesville Catholic School, Norm's Transportation, Champion Tutoring,  Wildlife Removal In Virginia,  Bat Removal USA, Life Needs A Venue – Cheryl Walker Charlottesville Real Estate, The Village At Gordon House, Real Estate III Commercial Properties, Milby Construction, Vatan Dental Group, Faith In Marriage, Mary Morony– Fictional Author, Christina Proenza-Coles – Non-Fictional Author, Real Estate III, Craig Builders, Tucker Law Group, Wolanski OBGYN, Ming Garden, Timeless Timberframers – Nicolas Thionville and more!  I have assisted in marketing and fundraising for Virginia Festival Of The Wheel (also developed website), Wings and Wheels for Paws (also developed website), the Charlottesville Albemarle SPCA, Caring For Creatures, Bras for a Cause (breast cancer awareness), Alzheimer's Association, and The Boy Scouts of America.
Who are we? We are Creative Juices Marketing. Need help with your marketing, advertising, event planning, public relations, or anything relating?  Call 434-964-7511 or email me today!
See also 5 Reasons Creativity Is A Must